Overplucked? Here's How To Grow Your Eyebrows Back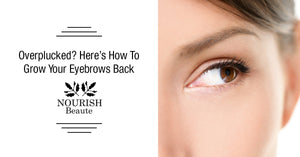 Nourish Beaute is most known for our hair growth products, but we also offer an amazing eyebrow serum that can help you grow your brows back thicker and fuller. Today, we want to spend a little bit of time discussing brow trends of the last century and how it has left women today with over-plucked eyebrows in a world where big, thick eyebrows are in fashion.
Decades Of Brows
Eyebrow shapes and styles have gone in and out of fashion over the decades. While it was common in the 1920s and 1930s to have pin-thin eyebrows, the 40s and 50s brought back heavier brows as seen on Audrey Hepburn, Grace Kelly, and Elizabeth Taylor. In the 1970s and 80s, ladies who rocked completely untamed brows were the envy of every thin-browed gal out there. Then came the 1990s. Famous women of the time, including Drew Barrymore, Christina Aguilera, Tyra Banks, and Brandy all fell victim to the pencil thin brow movement that once again took the world by storm.  
Today though, thick eyebrows are back in vogue. Unfortunately, though, many women who over-plucked in the past find that their brows just don't grow like they used to. With major brow envy for the likes of Lily Collins, Solange (and sister, Beyonce), Cara Delevingne, and Sofia Vergara, women might be wondering if their brows will ever grow back.
How To Grow Your Eyebrows Back
Put The Tweezers Down
In the grow-back process, your brows will look more unruly than you are used to. It is important to accept that you're taking a cross-country train to your destination, not teleporting. Imagine how full you want your brows to eventually be, and only pluck the hairs that are well outside of that realm. Be thankful for those strays that are growing back!
Makeup Til You Make It
Until your brows are full Delevingne, they may need a little help. This is where a good brow pencil or powder comes in. Ask friends for their favorite brow fillers, or head to your local makeup shop and ask a professional how they recommend filling in those brows until the real stuff comes in.
Use An Eyebrow Brow Growth Serum
The best way to grow your brows back is to make sure you are using products that support brow growth, especially if they do not seem to grow back on their own. Our Bang Brow Growth Serum uses three patented growth formulas which include Peptides, Redensyl, and Capixal. Additionally, it also has collagen, biotin, argan oil, and castor oil to nourish and strengthen your brows as they grow.
Grow Your Brows With Bang Brow Serum
If you are trying to grow your eyebrows thicker and fuller, make sure you have the right tools for the job. At Nourish Beaute, we are committed to bringing people clinically proven hair growth formulas, and our eyebrow growth serum is no exception. When using our Bang Eyebrow Growth Serum, 97 percent of women reported noticing thicker, fuller brows with an overall 168 percent increase in brow growth. Most people see results in just four weeks, and if you just feel like our product doesn't work for you, we offer a 90-day happiness guarantee and will refund your purchase if you are unsatisfied. Get your Bang Eyebrow Growth Serum today!