Understanding the Hair Growth Cycle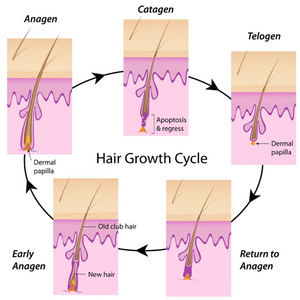 There are many things that can cause your hair to grow sluggishly, or fall out. Hair growth treatments are designed to stimulate growth by activating follicles To understand how hair growth products work, you must first understand your hair growth cycle.

The Hair Growth Cycle:
Hair grows in stages, with a long stretch of active growth followed by a period of shedding and then a period of dormancy. Each hair grows independently at different stages.
1) The Anagen Phase: The longest phase of the growth process is called the anagen phase. This stage, when the follicle is active and producing new cells resulting in hair growth, typically lasts two to six years.
2) The Catagen Phase: The transition at the end of the Anagen Phase where the follicle sheds the hair that has grown. The hair detaches slowly from the bulb, the hair shaft falls, and the follicle enters a dormant period. Catagen lasts about 2-3 weeks. This is the reason that some people experience increased shedding when they begin a hair growth treatment
3) The Telogen Phase: After shedding the hair shaft, the follicle rests and prepares for another round of the Anagen period. This dormant phase lasts about 2-3 months. 
When suffering from hair loss, the telogen phase is prolonged, and the transition to the anagen phase becomes more difficult. Hair becomes thinner and the percentage of hair transitioning to the telogen phase continues to increase.
Nourish Beaute's hair growth treatments work by stimulating the follicles in the telogen phase to transition into the anagen phase and begin growing new hair again.
There is no treatment for a dead follicle. It is important to act as quickly as possible if you are noticing hair loss! Begin treatment right away.
________________________________________________________________
While Nourish Beaute products are best known for treating hair loss, they do so much more than that!

Formulated with natural botanicals, vitamins and oils, our products are designed to leave your hair softer, stronger and more manageable. Get the healthy, nourished hair you crave and try the Nourish Beaute Total Hair Growth System!