Part I: Your Best Hair - It Starts in the Shower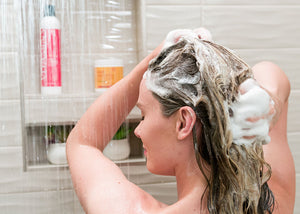 The first part of a routine to your best hair starts in the shower. Using the right shampoo is as important as proper shampoo and conditioning technique.
Choosing the Right Shampoo
If you are combatting hair loss or looking to regrow lost hair, this becomes even more important to achieving results.
We lose hair for many reasons, and it's important to choose a shampoo and conditioner that work in multiple ways to combat hair loss. All Nourish Beaute products are designed to fight hair loss, help you regrow lost hair and keep the hair you have healthy and manageable.
Here is a list of what you should look for when choosing a hair growth treatment:
Contains patented hair growth ingredients, backed by real results in clinical trials.


Increases blood supply to the scalp - delivering vital nutrients to sluggish roots to stimulate growth


Cleans and preps scalp for hair growth - look for ingredients (like coconut oil) that help prevent fungal infections, and remove excess sebum from the scalp. A healthy scalp is paramount for hair growth!


Blocks DHT - the root killing hormone derivative that binds to follicles causing hair loss


Encourages hair into the Anagen Phase- stimulate dormant follicles.


Thickens the root sheath - important for optimal anchoring, so you keep more of the hair you have!


Contains natural vitamins, minerals, and oils (like coconut oil, castor oil, and biotin) to nourish hair and keep it healthy.
Once you've chosen the right products, its time to make sure you are using them right for maximum results! Step #4 is a game changer!
Steps to a Great Shampoo:
Grab a bottle of the Nourish Beaute VITAMINS Shampoo or Premium VITAMINS Shampoo.
Wet hair and apply a liberal amount of shampoo. 
Work into a rich lather and gently massage into your roots.
Allow shampoo to sit (or continue massaging for additional stimulation) for 2-4 minutes.
Rinse thoroughly.
Follow with Hair Growth and Repair Conditioner
Remember, the first part of a routine to your best hair starts in the shower. Choose the right shampoo and conditioner and follow the correct shampooing and conditioning steps mentioned in this post.
The second part of a routine to your best hair is maintaining a healthy diet and giving your body the nutrients it needs! Check out Part II: Weight Loss and Hair Loss, What You Need to Know.
________________________________________________________________
While Nourish Beaute products are best known for treating hair loss, they do so much more than that!

Formulated with natural botanicals, vitamins and oils, our products are designed to leave your hair softer, stronger and more manageable. Get the healthy, nourished hair you crave and try the Nourish Beaute Total Hair Growth System!