Iron Deficiency Hair Loss: What To Know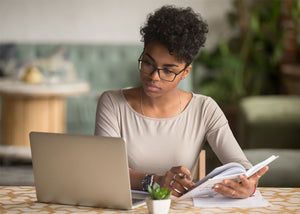 Many seemingly healthy individuals find themselves wondering what could possibly cause their hair to thin or fall out completely. While we may expect our hair to thin as we age, hair thinning in our 30s, 40s, 50s, and even 60s may be curious, to say the least. At Nourish Beaute, we offer hair growth products that are proven to promote healthy hair growth in clinical studies. If you are experiencing hair loss, we suggest trying out hair loss shampoo and conditioner, as well as our hair growth serum. We offer a 90-day happiness guarantee, so if you're not happy just let us know and we'll refund your purchase!
While hair can be nourished from both the inside and the outside with a combination of hair growth shampoo and conditioner along with vitamins for hair loss prevention, there are occasionally well-understood reasons for hair loss. One of the more common reasons for hair loss is believed to be a deficiency in iron. Nearly ten percent of all women are iron deficient, and getting screened to iron levels may be a good idea if you are experiencing unexplained hair loss.
What Is Iron And What Does It Do?
Iron is an essential mineral that helps transport oxygen throughout the body, including to our scalps. Nearly two-thirds of the iron in our bodies are in hemoglobin, a substance located in red blood cells that carry oxygen from our lungs to the rest of our body. Without enough iron, our bodies cannot properly make a sufficient amount of red blood cells which can cause anemia.
Iron Deficiency Hair Loss
Hair loss caused by iron deficiency can be hard to diagnose, but should not be ruled out as a reason for male and female-pattern hair loss. This type of hair loss mostly affects women, children, and older individuals but may also affect men of any age. The hemoglobin in red blood cells is responsible for cell repair and regeneration, including hair follicle cells, which is why low levels of iron can result in hair loss.
Low Levels Of Iron Affect More Than Your Hair
While hair loss may be a symptom of an iron deficiency, it is not the only symptom — nor, the most concerning. Low levels of iron can cause chronic fatigue and tiredness, shortness of breath even in physically fit individuals, dizziness or lightheadedness, restless legs, and brittle and spoon-shaped fingernails.
Treating Iron Deficiency Hair Loss
While iron deficiency can be a cause of hair loss, it is important to not start popping iron supplements like Skittles. Too much iron in the body can cause even more serious conditions. The best way to determine if you have an iron deficiency is to meet with your physician who can run a simple blood test. You may just discover you have other mineral and vitamin imbalances that need to be addressed! Your doctor will be able to prescribe the right kind of iron supplements and monitor your levels to ensure they do not get too high.
However, supplements are not the only way to increase your iron intake. Healthy ways to incorporate more iron into your diet is by eating foods that are naturally rich in the mineral. These include spinach, lentils, eggs, beans, tofu, quinoa, dried fruits, chickpeas, and organ meats (especially liver), as well as red meat, seafood, pork, and poultry.
In the meantime, be sure you are nourishing your hair from the outside, too! Nourish Beaute hair loss shampoo and conditioner can help decrease hair loss by keeping hairs in the growing phase longer.
You can learn more about how our hair growth shampoo works here
!