Four Rules To Follow When Heat Styling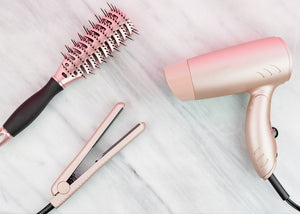 Using hot tools every day can cause a lot of damage to your hair. However, we know for many that a world without heat styling isn't a world you want to be in — so, in today's blog, we're not going to tell you to completely ditch the heat styling, but we are going to tell you how to do it safely and still protect your hair as much as possible! Keep reading to learn about four golden rules to follow to reduce heat damage to your hair!
1. Never Use Hot Tools On Damp Hair
If you've ever been in a hurry when you're getting ready, you might have casually run your flat iron over damp hair. This causes a phenomenon called 'bubble hair.' The heat from your straightener or curling iron causes the water in the hair to boil, causing tiny air bubbles to get stuck inside of the hair shaft, making the hair brittle and prone to breakage. This condition is irreversible and your only option is to live with your bubble hair until it grows out — hint: we can help with that part with our hair growth products! Make sure you air dry your hair completely before touching with a hot iron, and if you use a blow dryer, keep it at least six inches away from the hair and on a low setting.
2. Use The Right Temperature For Your Hair
There's a reason why heat styling tools give you the option to choose your temperature. Your hair texture and thickness will determine which heat level you should use. Most of us plug in our curling iron or straightener and crank it to the highest temperature setting. However, this is going to be hotter than most people need. Flat irons typically go up to 450 degrees, though most people with healthy hair can get the job done between 375-400 degrees. For fine or thinning hair or for color-treated hair, stick to 300-350 degrees. If you have double-processed hair (as in, your hair has been bleached and then had another color added to it), try to stick in the 200s.  
3. Use a Heat Protectant
When you go into Target and are bombarded with shelves and shelves full of hair products that claim to do this or that, it can be easy to think, "I don't really need this." However, heat protectant sprays and balms serve a very important purpose. They cover your hair in a thin coat of product that seals the cuticle, reduces water evaporation, and lowers heat conduction. Keep in mind, this only reduces the damage, it doesn't prevent it.
4. Treat Your Hair — Don't Just 'Heat Treat' It
Heat treated hair has seen better days, so make sure to take some time every week to repair damage and return moisture to your hair. We recommend using a nourishing hair mask to replenish dry hair and add more protection against heat. Our moisturizing hair mask is full of hair-healthy ingredients including Vitamin B5, baobab tree extract, shea butter, coconut oil, and castor oil, among others, and is paraben-free and alcohol-free. Plus, it includes Baicapil, a patented hair growth ingredient, making it a great option to add to your collection of hair growth products.
Let Us Help You Protect Your Hair
With our line of clinically-proven hair growth products, you can trust that we know a thing or two about healthy hair. After all, what's the point in making your hair grow fast with a hair growth shampoo if you're just going to fry it all? Be sure to follow the above rules for healthier heat-styled hair, and be sure to nourish your hair between styling with a
nourishing hair mask
!