Do Hats Cause Thinning Hair?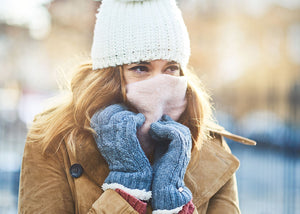 If you love wearing hats but wonder if it could impact hair growth, there isn't a simple answer. Technically, using a hat may or may not cause thinning hair and hair loss.
Let's dig a little deeper into the science behind it.
What Helps Healthy Hair Growth?
More important than the use or omission of hats is what goes on inside your body, when it comes to hair growth. Thinning hair and other hair problems in both men and women are determined largely by stress, hormones, diet, and other factors. This is why the use of vitamin and mineral-enriched hair care products, or the use of a hair growth supplement, can encourage healthy hair growth from within.
How Does Wearing A Hat Cause Thinning Hair?
Your lifestyle habits may end up negating the strength and quality of your hair, even if it grows out of the follicle as healthy as it can be. Frequent use of hats, particularly tight ones, can cause damage to the exterior of hair strands. Thinning hair and hair loss due to tight hats can be experienced by both men and women. While it seems like you're actually doing your hair a favor by wearing a protective hat when you go hiking, or a tight beanie during harsh weather, the effects of tight hats aren't immediately visible. The reason why tight hats pose a problem is because your scalp requires good circulation to deliver nutrients to the follicles through the bloodstream. Wearing tight hats greatly reduces circulation in the scalp, contributing to long-term hair loss.
Tips For Avoiding Damage From Hats:
Choose a quality hat: Not all hats will affect your hair the same way, so this doesn't mean that you have to completely stop using hats. Just make sure that you choose a hat made from 100% natural fiber, such as wool or cotton. Using cotton hats during the summer will help your scalp breathe while offering protection from the sun's UV rays, while a wool hat in the winter will help protect your scalp and hair from harsh winters.


Take breaks: Using a hat continuously for several hours throughout the day increases the chances that you'll suffer from thinning hair and hair loss. To minimize the effects of continuous wear, remove your hat when you're indoors or in any place that doesn't need added protection.


Give your hair additional nourishment: The most effective way to prevent any kind of damage to your hair is to give it a strong foundation in the first place. You can do this by ensuring it has all the nutrition it needs to begin with, by eating a diet that supports hair growth, taking hair growth vitamins, and by using conditioners to moisturize the exterior part of each hair strand.


Keep your hat clean: You might not notice it, but oil, sweat, dirt, and other particles can accumulate on your hat from frequent use. Exposing your scalp to these things can cause irritation, scalp issues, and hair loss problems. Cleaning your hats regularly is a simple but useful way to prevent thinning hair and hair loss.
________________________________________________________________________
Keep your scalp and hair in a healthy and well-nourished environment. After cleansing with our VITAMINS Shampoo or PREMIUM Shampoo, follow up your wash with our VITAMINS Hair Growth Support Conditioner.

Using the right hair conditioner will not only provide your hair with the moisture it needs (particularly when wearing hats that can dry the hair our!), but it will also feed your hair with organic ingredients like biotin, Argan Oil, Coconut Oil and Jojoba Oil.