Different Hairbrushes and When To Use Them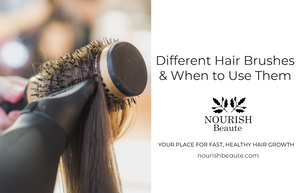 The old adage, "You can never have too many shoes" surely applies to brushes, too! If your dresser has several different kinds of brushes, you're not alone.
Having many brushes and combs is actually a good thing, but it's a matter of knowing when to use the right one for hair health as well as the prevention of breakage and frizz.
These are the various styles of brushes and the appropriate times you should be using them:
Paddle Brush
A paddle brush is a large, flat brush that may be oval or rectangular shaped, and is usually made with synthetic or natural bristles. Paddle brushes are recommended for straight hair especially if you're looking to detangle, get rid of frizz, smoothen hair, or add shine. These can effectively pull apart knots without damaging your hair, which make it a great choice for a daily brush.
Styling Brush
A styling brush uses synthetic or natural bristles, and is usually curved. Styling brushes are ideal for curling hair, creating volume, and other styling needs. These are suitable for all hair types, most especially thick hair. Styling brushes are great for drying your hair using a hair dryer.
Round Brush
Round brushes contain synthetic or natural bristles all over the head of the brush. Some varieties of round brushes contain vents. Round brushes are a great tool for creating curls and waves. If you have thick and long hair, use a large round brush; and if you have short hair, a smaller round brush will do the job.
[Recommended: Are Your Lifestyle Habits Contributing to Hair Loss?
There are also a wide variety of combs to cater to different hair needs:
Wide-tooth Comb
Wide-toothed combs do an excellent job of detangling your hair in the shower. Curly-haired women can benefit from using wide toothed combs while conditioning hair since it helps ensure that nourishment and moisture is evenly distributed onto each strand.
Tall Combs
Tall combs, also known as rattail combs, do a great job at parting hair and creating dramatic deep sides, clean sections for braids, and even zig zags. To create a perfect line, gently press the end of the tail comb to your head as you weave your hair to make a clean part. The fine teeth of the rattail comb makes it perfect for smoothening out any bumps in your hairstyle. Another good use for the rattail comb is for evenly distributing serum throughout your hair, simply wash it with soap and water right after use.
Heat Resistant Comb
A heat resistant comb helps you achieve perfectly straight hair. This tool works well with flat irons since it helps guide and control sections of your hair without melting from the heat of the iron. Using the right brush or comb for your styling needs can make a big difference in your hair's health and appearance. However, it won't do the job alone: make sure that you're also using the good quality shampoos and conditioners that are formulated with natural, nourishing ingredients
________________________________________________________________
While Nourish Beauté products are best known for treating hair loss, they do so much more than that!

Formulated with natural botanicals, vitamins and oils, our products are designed to leave your hair softer, stronger and more manageable. Get the healthy, nourished hair you crave and try the Nourish Beaute Total Hair Growth System!