Best Hairstyles For Thinning Hair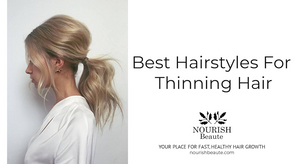 As if having thin hair wasn't frustrating enough, it also comes with the stress of finding the right hairstyles. Many hairstyles end up falling flat on a woman with thin hair, but don't worry, we've compiled the best hairstyles to create volume for women with thin hair.
Image: via
Teased Ponytail
A teased, voluminous ponytail is one of the most effective ways to make hair appear thicker. The best way to pull off a teased ponytail is by having hair that's been washed and completely dry. Ideally, it's best to skip shampoo and conditioner for just a day before you intend to do a teased ponytail, then use a hair serum for added texture. Hold the top layer of hair then tease it using a fine-toothed comb. Keep in mind that teasing is basically the opposite of brushing: use the comb to brush towards the scalp to create knots with volume, then seal it with a high ponytail.
Image: via
Teased Half Ponytail
Where your hair naturally parts is a surefire giveaway to how thin your hair really is. The solution? Cover it up with a teased half ponytail. Shampoo first by using a natural, hair growth shampoo for added volume. Once dry, lightly tease the uppermost half of your hair by taking it in the middle. Pull it back so that it covers the part, using bobby pins to secure it.
Image: via
Deep Side Part
One hairstyle that women with thinning hair definitely need to avoid is a dead-center part. This will only emphasize the thinness of your hair. Instead, part your hair at least 3 inches from the center, using a hair serum to add texture and hold it in place. You can also use a curling wand or iron to add waves through the roots.
Image: via
Short Layered Bob Haircut
The right texture and color are fool-proof ways of transforming thin hair. Having dark roots with light hair creates the illusion of dense, thick hair; while blunt and choppy layers improve volume. If you're ready to say goodbye to long, thin hair; a short layered bob cut will give your hair volume and attitude.
Image: via
Long A-Line Bob
Not every woman likes layers, but single length cuts are coming back in style and are a great way to give the illusion of thicker hair. A long a-line bob offers the uniformity of a modern touch, and it also looks good even when it's grown out. This is a highly recommended hairstyle for women who aren't ready to go for a short layered bob, but still want the versatility of a wash-and- wear look that boost volume while looking stylish.
________________________________________________________________
While Nourish Beauté products are best known for treating hair loss, they do so much more than that!

Formulated with natural botanicals, vitamins and oils, our products are designed to leave your hair softer, stronger and more manageable. Get the healthy, nourished hair you crave and try the Nourish Beaute Total Hair Growth System!