5 DIY Hair Masks To Nourish Your Hair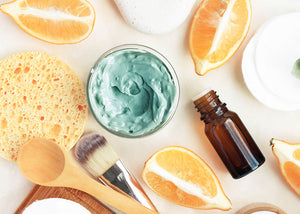 Spring is a great time to make sure your hair has fully recovered from the cold, harsh winter before we go into summer - a season that is just waiting to bombard your hair with heat and UV rays! While using a daily nourishing and natural hair growth shampoo like we offer here at Nourish Beaute will keep your hair in good shape throughout the year, there are a few things you can do every now and then to give your hair an extra boost.
Today, we're going to talk about how to do that with do-it-yourself hair masks! Pretty much everything you need to nourish your hair can be found in nature, so why buy a hair mask when you can make one yourself? Keep reading to learn about 5 of our favorite hair mask recipes!
5 DIY Hair Masks To Try At Home
Olive Or Coconut Oil Hair Mask
If you have either of these lovely oils in your kitchen, you can just throw them on your hair - no mixing new concoctions necessary! Both of these oils are naturally hydrating and will leave your hair smooth and shine. Apply it liberally, brush through, and leave on for at least 20 minutes. Afterward, rinse with your favorite hair growth shampoo.
Avocado + Egg
Take a ripe avocado and mash it with an egg. Use a hand mixer or throw in a tablespoon of oil if you're having trouble mixing these. Eggs are full of Vitamin A and fatty acids, as well as Vitamins D and E. All of these work wonders for dry, dull hair. Avocados are full of healthy fats that will help to add fullness and luster to your hair. While you're waiting for your hair mask to soak in, you can use any leftover avocado to make yourself some avocado toast topped with a fried egg!
Honey + Coconut/Olive Oil
Not only is honey a delicious natural sweetener, it is also a natural humectant, meaning it helps lock in moisture. Create a mixture that is two-parts honey and one-part oil and apply to your hair, focusing on the ends. Massage it in and leave for 10-20 minutes. It may be sticky, but it will be worth it! You can also use this moisturizer on your face!
Apple Cider Vinegar + Lemon
While most of the hairs masks we've talked about today have been chosen to moisturize your hair, this mixture of apple cider vinegar (ACV) and lemon juice will help to balance your scalp pH levels and clear your head of buildup. ACV has known antifungal and antibacterial properties which can help to calm irritation on your scalp. It can also cleanse your hair without stripping it of healthy oils, and due to its acidity, it can help balance pH when combined with water. Work this mixture through damp hair focusing on the roots and relax in a plastic shower cap for about 10 minutes. Rinse thoroughly (no need to shampoo or condition after this one) and you're good to go!
Banana + Honey
This might just be the tastiest of these hair masks, so if you accidentally eat a spoonful, we don't blame you! Mash a banana with a tablespoon or two of honey and comb the mixture through your hair. Massage it into the ends, and leave on for at least 20 minutes. Rinse and follow up with your natural hair growth shampoo and conditioner and enjoy soft, shiny hair!
Nourish Your Hair Today!
Most likely you have exactly what you need for a few of these masks in your kitchen. Feel free to make your own masks, too! Any sort of mixture of organic oils, avocado, banana, raw eggs, lemon, and apple cider vinegar will have nice results on even the most stubborn, dry hair.
And don't forget, you have the opportunity to nourish your hair daily without spending your entire paycheck on avocados! Our nutrient-rich, organic hair growth shampoo is full of hair-healthy ingredients like biotin, keratin, argan oil, and DHT blockers for hair growth. Discover nourished hair today!